International Day of the Girl: Panorama in DR
On October 11, he was designated by the UN General Assembly for International Day of the Girla celebration that seeks to raise awareness of the inequalities girls face around the world, demand their rights and contribute to their empowerment.
2022 marks the 10th anniversary of the establishment of the date. While efforts have been made to improve the lives of girls in the country, according to Claudia Saleta, sexual and reproductive rights officer for Plan International Dominican Republic, much remains to be done.
According to an analysis by the aforementioned non-profit organization, progress made on girls' rights over the past decade has been too slow, fragile and uneven. The result showed that many girls face the same inequalities as their mothers did years ago. That means 2022 looks a little different than 2012.
One of the major achievements in gender equality in the last 10 years in the country is the approval of Law 1-21, which prohibits child marriage as it provides legal protection against certain forms of abuse and harmful cultural practices.
However, child marriage is not the only factor threatening the future of girls nationally. There are also early pregnancies, and according to ENHOGAR-MICS 2019, 20% of young women have their first child before the age of 18.
These figures rise to 34% among the poorest and 49% among those who complete only primary school. One of the most alarming figures is that 2% of young women have had a child before the age of 15.
Within these percentages are situations of abuse, incest and sexual violence. In the country, data from the Experimental Survey on the Situation of Women (ENESIM, 2018) – which surveyed women and adolescents between 15 and 17 years of age – showed that 65% of the adolescents surveyed had experienced sexual violence at some point in their lives.
"East International Day of the Girl it's a stark reminder of how much more needs to be done to achieve gender equality," says Saleta. "We must go beyond legal recognition of girls' rights and urgently back up commitments with new and urgent investment so that all girls have the chance to thrive."
What can be done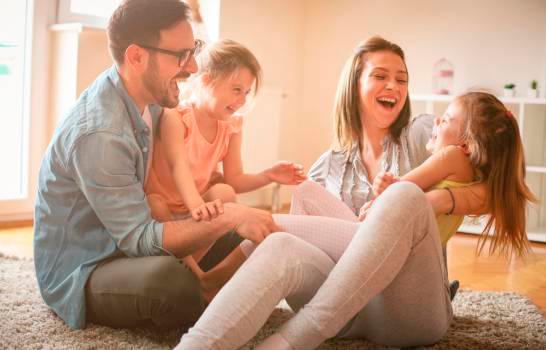 Gender-based violence, teenage pregnancy and early unions are challenges that often have a solution in parenting and how children are educated and trained. "Through parenting, we can challenge social and gender norms that perpetuate inequality for girls and violence against women," says Michela Da Roda, Advocacy Officer at Plan International DR.
For her, it is essential that parents and people who have children in their care have the necessary tools to provide them with an education based on respect and love that does not reproduce patterns of violence and gender inequality. This includes physical and emotional punishment.
"Maltreatment is harmful to children's emotional, physical and holistic development, affecting children's rights to life free from violence, participation, recreation, health, education, among others," it reads.
As part of positive parenting, he says it is also important for parents and guardians to be able to maintain an open dialogue with their children, a horizontal communication in which respect prevails and limits are set with authority but without authoritarianism, promoting self-esteem, autonomy and the basic concepts of preventing/reporting abuse and violence.
As for girls' development institutions, they can ensure a violence-free environment by implementing programs to empower their sexual and reproductive rights, as well as protection from violence.
It also cites the generation of detection and reporting mechanisms to the protection system for cases of abuse and violence and early alliances that take place both inside and outside of school, encouraging the active participation of children and adolescents in the various spaces in the centers education and comprehensive work with parents, guardians and the community.
Activities to mark the day
On the occasion of the celebration of International Day of the Girlthe organization Plan International Dominican Republic held a discussion with a group of Dominican girls and adolescents who discussed how they managed to overcome the problems that affect them in their lives and in their communities, such as early unions, teenage pregnancy and violence.
Today, October 11, 30 girls and adolescents who participate in Plan International's programs in Azua, San Juan and Barajona will have a meeting at the National Palace to learn how this power of the state works. A little girl will participate in the session of the deputies, in which he will explain the importance of celebrating the Day of Little girl and the challenges facing Dominican girls and adolescents.
The organization indicates that they will participate in the first international forum "Challenging practices that harm Dominican girls and adolescents" held by the United Nations Population Fund (UNFPA) and the Cabinet for Children and Adolescents (GANA) through the National Council for Children and Adolescents (CONANI).
In turn, they manage a program with companies and institutions so that a little girl spokeswoman take the position of the highest authority of an institution for a day to mark a milestone in breaking stereotypes from various spheres of leadership and to be able to make themselves visible by occupying these roles in the future.
To inspire girls and adolescents to see themselves as future leaders and to highlight the importance of role models, Plan International created the "AMiYoNiña" challenge, in which women write a post with a message about what they wish they had heard or known in their teenage years , especially before the age of 16.