tickets, timetables and nearby hotels
As if singing the great Raw song, Alejandro could tell Cantabria, "I like everything about you." Its wonderful beaches (some even beautiful during rainy days), its spectacular gastronomy, impressive landscape, people…
Cantabria is a province with a lot to see and one of the most famous places is Cabarseno Natural Parkan ideal destination, especially for family getaways.
What is Cabárceno de Cantabria Natural Park?
Located in the Pisueña Valley, Penagos municipality, and only 15 km from the capital of Cantabria, this park is an ideal destination if you are visiting Santander with family because since last September 1, boys and girls up to ten years of age enter for free.
Located in an old opencast iron mine that closed in the late 1980s, the Cabárceno Natural Park covers around 750 hectares of land. These reddish lands at the foot of Peña Cabarga, which sometimes seem to transport us to USA, are now home to more than 150 species of animals from around the world. Tigers, elephants, zebras, buffaloes, gorillas, birds of prey, giraffes… In this natural area, amazing karst landscape which became a home for all of them.
In addition to the remains of the abandoned iron mine, during the route through the enclosure we will see animals of all kinds in its more than 20 kilometers of internal roads. You can stop at various points along the route and even organize a picnic in the park. Well perfect day trip which besides is pet friendly and lets us go with ours pets in the car and a walk in the park.
In addition to the route through the safari park, there are exhibitions of birds of prey (included in the price of admission), a reptile park and attractions such as the famous funicular or cable car. east plan of the park It will give you all the clues about possible stops to make.
Cabárceno cable car
Cabárceno Nature Park's cable car is 6 kilometers long and has two lines, with a full trip (both lines) lasting about 50 minutes.
The tour has four stations located at strategic points in the parkStation 1 in Cabárceno to the eastern entrance, Station 2 to Mirador de Rubí in the northern part of the park, Station 3 to the bear enclosure in its northern part and Station 4 to the southern entrance through Sobarzo to the park.
And good news: you can now access the Cabárceno Natural Park cable car with our pets, just like reported from the park itself Recently.
Hours of Cabárceno Natural Park
The park is open all year round except for December 24, 25 and 31 and January 1 and has different opening hours according to the season. The schedule is for entry, as you can stay in the park until sunset, but we will tell you when the ticket offices close:
From 03/01 to 11/01 open from 9:30 to 18:00.
From 02.11 to 28.02 (Monday to Friday) from 9:30 a.m. to 5:00 p.m.
From 02.11 to 28.02 (Saturdays, Sundays, holidays and long weekends) from 9:30 a.m. to 6:00 p.m.
Holy Week (Holy Thursday to Easter Sunday) from 9:00 a.m. to 6:00 p.m.
The cable car has a different timetableand the last upload is 30 minutes before it closes:
June, September, long weekends and every Saturday and Sunday of the year: open from 10am to 6pm.
July and August: open from 10 a.m. to 7 p.m.
March, April, May and October: open from 10:30 a.m. to 5:00 p.m.
November, December, January and February: open one line Monday to Friday from 11am to 5pm.
Holy Week: April 9 to 13, open 9:30 a.m. to 6:30 p.m.; from April 14 to 17 with working hours from 9:00 a.m. to 6:30 p.m.
Cabárceno Natural Park tickets
Cabárceno Natural Park ticket prices are from 20 euro for adults in low season (from 07/11 to 31/03, excluding bridges and holidays) and 10 euros for the youth ticket for children from 11 to 16 years.
The price in medium high season (from 01.04. to 6.11., excluding 15.07. to 31.08. and Monday, Tuesday and Wednesday of Easter, in addition to all bridges and holidays) amounts to 32 euros for an adult and 18 euros from children.
In addition, there is a friend of the park card that allows you to go as many times as you want during the year and has a price of 64 euros for adults from 18 years old. If we want a family card, there are three options: Mono card (86 euros for an adult and children up to 17 years old), Family card (for parents and children up to 17 years old with a price of 150 euros) and a Manada card, with a price of 182 euros and valid for parents and children under 17 and two grandparents.
More activities in Cabarceno
In addition to the normal ticket Cabárceno offers experiences like "Wild Visit", a different way to explore the park in a vehicle together with experts and much closer to the animals and their way of life. Includes food and exclusive itinerary. The price is from 230 euros for an adult and 115 euros for a child.
One of our favorites is "Cabárceno en EBike", a cycling route in groups of a maximum of seven people, with which we will sport without realizing (as in these sports that do not give laziness) and has a price of 65 euros for adults and 50 euros for children from 9 to 12 years old.
Hotels near Cabarceno
As we told you at the beginning of this article, Cabarseno is the perfect destination if we are visiting Santander. It's only 15 km away and since we'll be using the car in the park, staying in town is a great idea.
Hotel Santemar, for example, is a five-minute walk from the Gran Casino del Sardinero and the Bay of Biscay, and is priced from 75 euros.
Double room at Hotel Santemar from 75 euros for two.
If we go with a dog, NH Ciudad de Santander allows some animals and has a price of 70 euros or a Santander Centro apartment priced from 133 euros.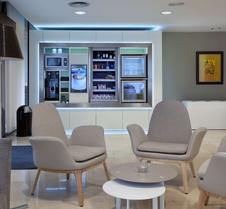 Double room at NH Ciudad de Santander from €70 for two
Santander Center 1 bedroom apartment from €133 per night
If we are looking for something even closer, Hotel Las Huertas is four kilometers away and has a price of 35 euros at night, although we stayed at the beautiful Posada Semilla less than five kilometers from the park and priced from 80 euros the night.
Double room at Hotel Las Huertas from €35 for two
Double room at Posada Semilla from €80 for two people.
Note: some of the links in this article are affiliate and may benefit Trendencias.
Pictures | Cabarseno Natural Park
In Trendencias | The 15 best trendy patisseries you shouldn't miss in Madrid
In Trendencias | How to wear a white dress and 21 ideas for its successful combination