Education creates a great divide, we must transform it, says Guterres
While we all know that education transforms lives, economies and societies, today it is becoming a a cause of great division rather than bringing about these positive changessaid the UN Secretary-General at the Education Transformation Summit this Monday.
Even in developed countries, education systems tend to reinforce inequality rather than reduce it and reproduce it from generation to generation. The rich have access to the best resources, schools and universities that lead them to the best jobs, while the poor, especially girls, face huge obstacles in obtaining qualifications that could change their lives," Antoniou pointed out Guterres in the General Assembly Auditorium during the Leaders' Day Conclave, which began last Friday.
"Education is in deep crisis", he affirmed and urged us to transform it.
Guterres noted that while the COVID-19 pandemic has had a devastating impact on education around the world, this crisis started much earlier and is much more serious.
Education systems are not up to the task and favor rote learning and competition for better results, in addition to the fact that curricula are often outdated and limitedand teachers are undertrained, undervalued and underpaid.
On the other hand, the digital divide penalizes the poorest students and the lack of funding is greater than ever, he added.
"We will not end this crisis by simply doing more of the same, faster or better." The time has come for the transformation of education systemswarned Guterres.
To achieve this, the UN leader highlighted five areas that require immediate attention and commitment:
© UNICEF/Sayed Bidel
A group of primary school girls at a school in Nuristan province, Afghanistan.
1. Protect the right to quality education
Protecting the right to quality education for all, especially girls, by restoring the ground lost due to the COVID-19 pandemic requires that schools are open to the entire school-age population without any discrimination.
"Quality education for all means addressing the crisis of basic learning and ensuring it lasts a lifetime," he said, also calling for greater emphasis on crisis points.
In this order, Guterres called on the Afghan authorities to immediately end the restriction of girls' access to secondary education.
"Girls' education is one of the most important elements for achieving peace, security and sustainable development everywhere," she said.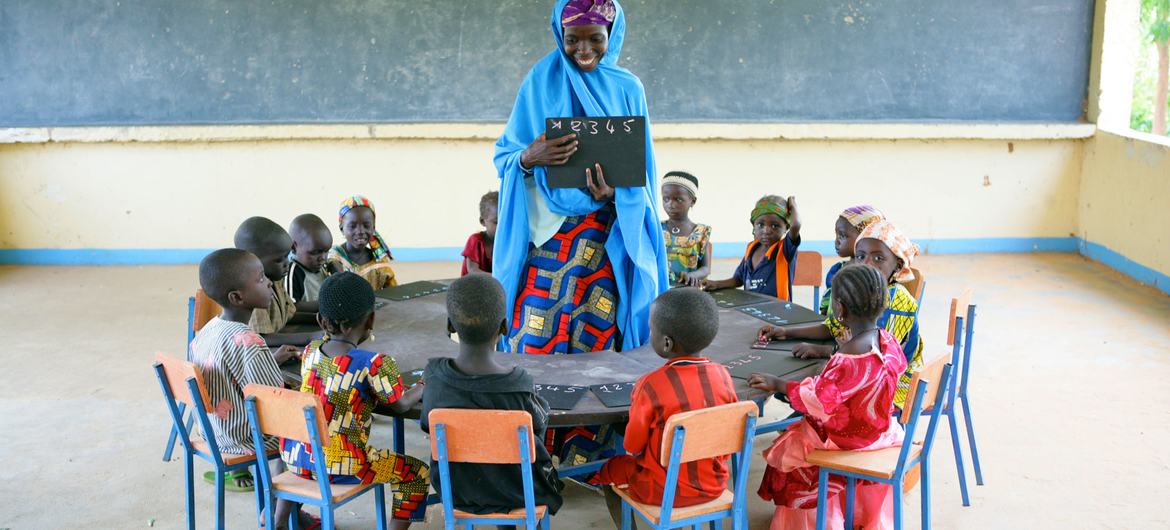 © UNICEF/Giacomo Pirozzi
A teacher with her students at the Young Child Development Center in Garin Bajin, Nigeria.
2. Train teachers
The Secretary General recalled that Teachers are the lifeblood of education systems and as such they must be trained not only to be instructors but also to encourage continuous learning.
At this point he emphasized the urgency of filling the global teacher shortage increasing their social status and guaranteeing decent working conditions, as well as continuous opportunities for updating and training.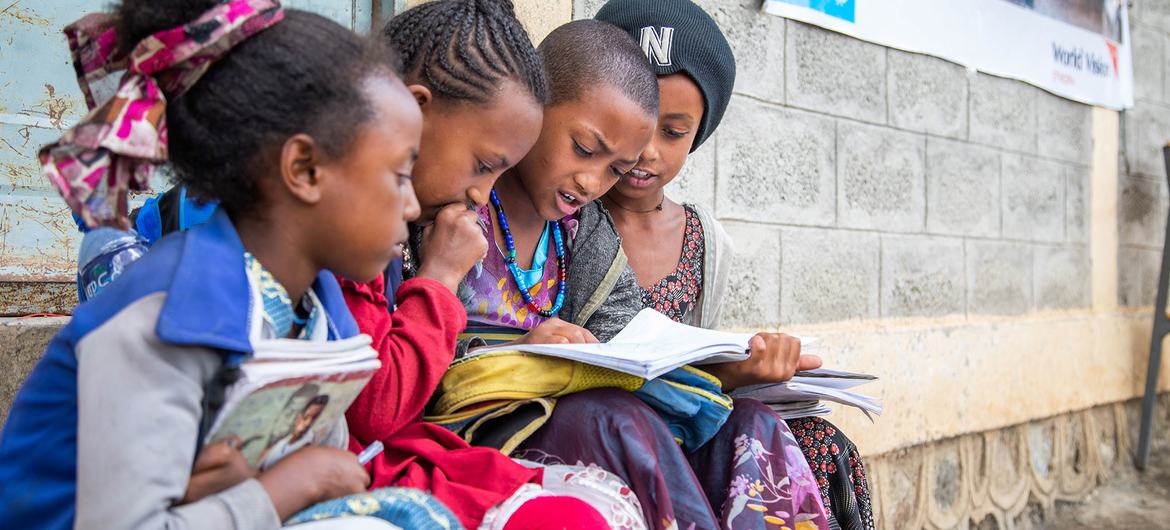 © UNICEF/Esiey Leul Kinfu
Girls studying outside a UNICEF-supported school in Tigray, Ethiopia.
3. Safe schools
The third area to focus on, Guterres continued, is the transformation of schools safe and healthy spaces that do not allow violence, stigma or intimidation.
Education systems should also promote the physical and mental health of all students, including sexual and reproductive health.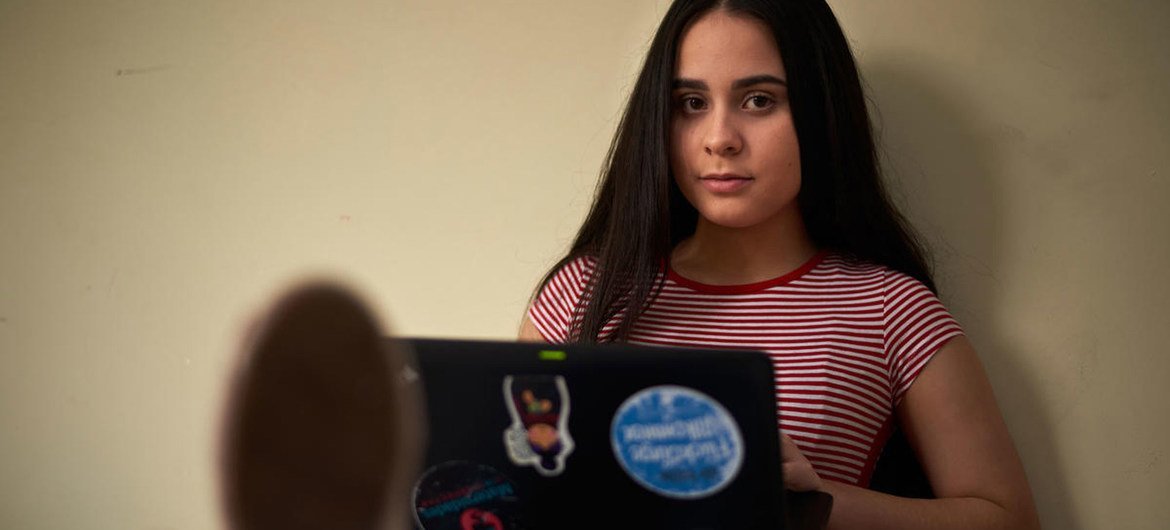 © UNHCR/Ramiro Aguilar Villamar
Venezuelan refugee student Emily uses her laptop in Quito, Ecuador.
4. Digital revolution
The digital revolution must benefit all students, the UN chief said and called on countries ensure that students and educational institutions are better connected.
"But connectivity alone is not enough to deliver education," he warned, adding that governments and educators must work with the private sector to develop high-quality digital educational content for all.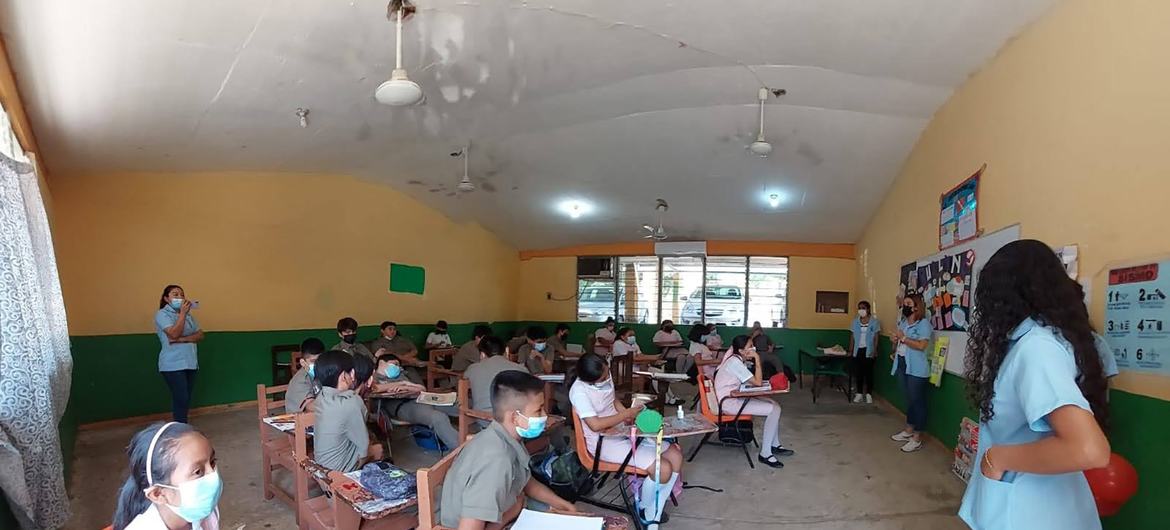 Courtesy of Nathaly Raquel Velasco
Natalie (right) during an anti-bullying workshop at a secondary school in Palenque, Chiapas.
5. Funding
Without increasing investment in education, it will not be possible to improve the educational program. Not without global solidarity, Guterres said.
"In these difficult times, I urge all parties to do so protect education budgets and ensure that their spending in this area translates into incremental increases in resources per pupil and better learning outcomes," he said.
The Secretary-General emphasized the need for education to be a priority for governments, as "it is the best investment a country can make for its people and its future".
In this context, the role of the international community is essential, which is why he called on development partners reverse attendance cuts and allocate at least 15% of ODA to education.
In addition, he specified, international financial institutions should provide resources to developing countries and leave them room for budgetary maneuvers so that they can invest.
Your spending and advice should be consistent with the goal of providing quality education for all.
In this regard, he cites the International Financial Service for Education, which is an international instrument he seeks mobilizing $10 billion to help an estimated 700 million children living in lower middle income countries to get a quality education.
An educational vision for the 21st century
Antonio Guterres advocated a vision for modern education and according to this centuryan education that teaches people to learn, solve problems and collaborate.
"Above all, quality education should support the development of the individual student throughout his or her life," he said.
Education, he added, should provide the foundation for learning, "from reading, writing and maths to scientific, digital, social and emotional skills".
Likewise, it should develop students' ability to adapting to the changing world of work.
"And it should help us learn to live and work together and understand ourselves and ours." responsibilities to others and to our planet", he stressed, alluding to issues such as climate change, disinformation and attacks on human rights. "We need education systems that distinguish facts from conspiracies, inspire respect for science and celebrate humanity in all its diversity", concluded the Chief Secretary.
A host of heads of state and government and leaders of international organizations, world leaders in education and related sectors, and education activists, including Pakistan's Malala Yousafzai, are participating in the education transformation conclave.