Alarmingly low levels of learning require a transformation of education
The lack of access to quality education plus prolonged school closures during the COVID-19 emergency have made a problem that already existed more serious and obvious: education is going through a crisis where Millions of children lack basic numeracy and literacy skills, The United Nations Children's Fund (UNICEF) highlighted this Friday.
As a result of the measures taken during the pandemic, learning has fallen to such alarmingly low levels around the world that only a third of ten-year-olds can read and understand a simple written story. Before the pandemic, half of the children could do it.
The World Bank, for its part, estimates that the share of 10-year-olds in the poorest developing countries who unable to read or write increased from 53% to 75%.
After the start of the pandemic, more than 90% of the world's children have dropped out of schoolthe largest disruption of education systems in history.
For many students, especially girls and young women, this interruption may become permanentwith the implications this has for their futures and the economies of their countries: projections show that this generation will lose ten billion dollars in income over their working lifetime.
For many other students who would continue their education, exclusion, outdated curricula and teaching methods will leave them ill prepared for the changing world of work, the climate crisis and global political polarization.
© UNICEF//Chris Farber
UNICEF's Classroom in Learning Crisis installation draws attention to educational issues.
Summit to find solutions
To address this situation and raise the issue to the top of the global political agenda, UN Secretary-General Antonio Guterres convened a summit on the transformation of education within the high-level segment of the UN Secretary-General Assembly debate, which held annually at the organization's headquarters in New York.
The activities of the said conclave begin today and will culminate on Monday, 19 with a plenary session in which Many heads of state and government, the UN Secretary General and heads of international organizations will participateworld leaders in education and related sectors and education activists.
To illustrate the educational problem and the urgent need to solve it, UNICEF installed "Crisis Learning Classroom", a classroom model that reflects the number of boys and girls who fail to master a series of basic skills.
In the Learning Crisis Classroom, a third of the desks are wooden and ready to go with a UNICEF backpack on the chair behind them. This section represents ten-year-olds who meet the minimum proficiency indicator required on reading comprehension tests. Made of transparent material, the remaining two-thirds of the desks are almost invisible to represent 64% of ten year olds who cannot read or understand a simple written story.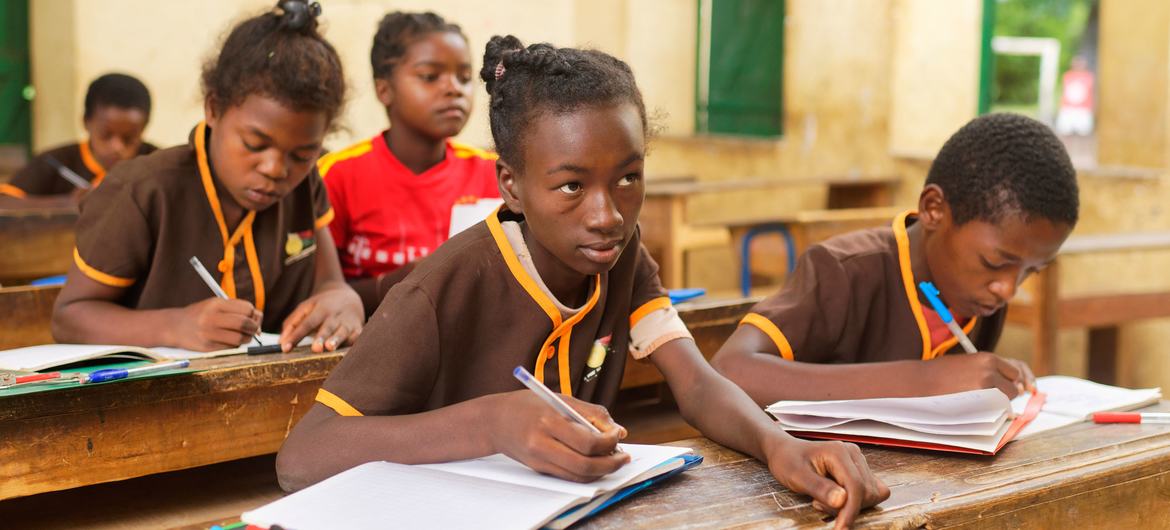 UNICEF/Rindra Ramasomanana
Students taking advantage of remedial class at Soanierana Primary School, Madagascar, do their math exercises.
invest in education
UNICEF Executive Director Catherine Russell said schools were under-resourced, poorly paid and under-qualified teachers, overcrowded classrooms and archaic curricula they undermine the young's ability to reach their potential.
"The trajectory of our education systems is by definition the trajectory of our future. We must reverse the current trend or face the consequences that will come from failing to educate an entire generation. Low levels of training today mean fewer opportunities in the futureRussell pointed out.
Ahead of the summit, UNICEF called on governments to commit to providing all girls and boys with quality education through new actions and investments to enroll and keep all children in school, increase access to recovery and catch-up after the setbacks of the pandemic, support teachers with teaching tools and materials, and ensure schools are safe and conducive to learning.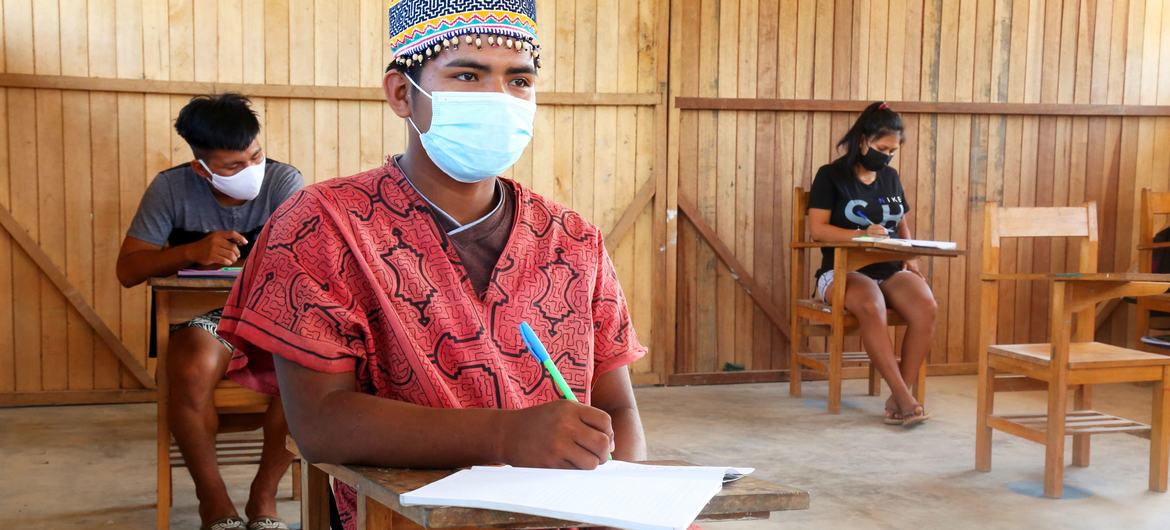 © UNICEF/Jose Vilca
Richard Guimaraes Canayo studies in high school in Ucayali, Peru.
Latin America at the Summit
Recognizing the need and urgency to improve education, Latin American and Caribbean countries have held a series of preparatory meetings for their participation in the summit, where they will contribute to the analysis, after conducting a national consultation process to produce a document that will present as a region, crafting a urgent call to action.
Among other approaches, Latin America and the Caribbean seek to mobilize new commitments, outline policies that have been proven to work and will encourage the use of existing initiatives and associations, some of which emerged in response to the pandemic.
Next Monday, the day of the leaders, the presidents of Ecuador, Guillermo Lasso; from Costa Rica, Rodrigo Chavez Robles; from Paraguay, Mario Abdo; and the Prime Minister of Barbados, Mia Amor Motley, will speak about environmental education. Other leaders from the region will address a variety of specific education topics.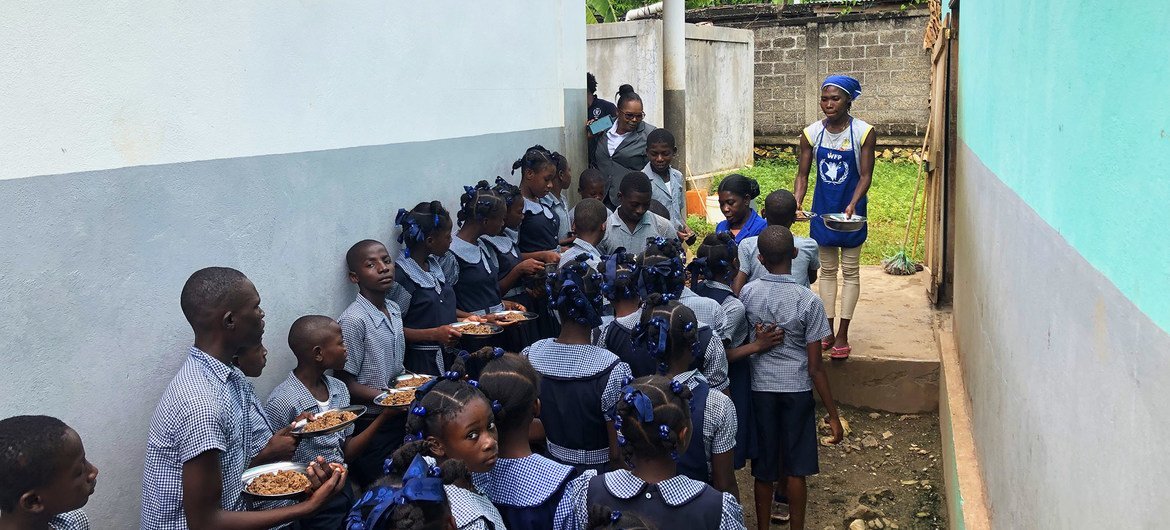 UN Haiti/Daniel Dickinson
Children waiting to receive school meals provided by the World Food Program in Haiti.
Children, hunger and education
The World Food Program (WFP), for its part, has warned that a generation is at risk of almost half of the world's hungry people are school-age children.
there is hunger detrimental effects on education and the ability of youth to recover learning lost during school closures due to COVID-19.
According to the WFP, a global food crisis would leave 23 million children under the age of 18 in acute food insecurity by early 2022, rising to 153 million the number of starving childrenalmost half of the 345 million people who suffer from this scourge in 82 countries.
The UN agency stressed the link between hunger and missed learning opportunitiesand argues that school feeding programs can help interrupt it.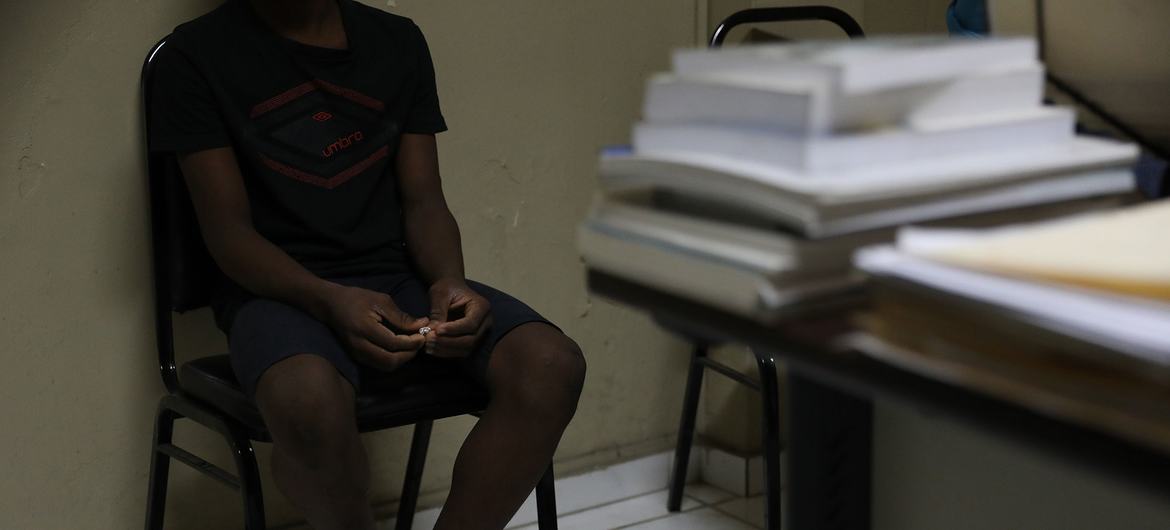 © UNICEF/Joseph
Steve joined a gang after his school closed.
One of the worst decisions
"No investment in school meal programs this is probably one of the worst possible economic decisions that governments and donors can make, especially now," said Carmen Burbano, Director of WFP's School Programs Division.
In this context, WFP called on the international community to implemented an ambitious action plan to restore school feeding initiatives disrupted by the pandemic and expand its reach to an additional 73 million children. The cost of such a plan would be about $5.8 billion a year and would complement other measures to fight child hunger.
The agency said school meal programs are among the largest and most effective social safety nets for underage students because they not only keep children — and especially girls — in school, but also help improve learning outcomes by providing better and more nutritious dietsas well as supporting local economies, creating jobs and livelihoods in communities and ultimately helping to break the links between hunger, an unsustainable food system and the learning crisis.
Message to the Summit
Also today, more than 100 leaders sent a letter calling on the summit to commit resources to address the global education crisis and commit to bold action and "the first generation in history where all children go to school.
In the letter, a number of former Prime Ministers, Prime Ministers, Foreign Ministers and others, including former Nigerian President Olusegun Obasanjo, former United Nations Development Program Administrator Helen Clark and former United Nations Secretary-General Ban Ki-moon, told the meeting: " We are so far behind our goal of achieving universal education by 2030 that unless we act quickly and generously, we will fall even further behind in our commitment to the UN Development Goals.'".
The signatories of the letter offer "global education pact between developing countries and developed economies to provide donor support', which includes, among other things:
developing countries increasing their education budgets to 15-20% of their public expenditure and 4-6% of their income
support for increased sustainable funding for education through reform of national tax systems combined with international action to reduce tax loopholes and illicit financial flows
increased international aid provided by multilateral development banks to increase support for education from 10% to 15%, unlocking an additional $15 billion over the next five years for 200 million children