Come and Play, the project that transforms the realities of refugee and migrant children and adolescents in Putumayo, opens a new sports venue
UNHCR
In 2022, Puerto Asis was one of the territories benefiting from the donation from the Olympic Refuge Foundation (ORF) through the project implemented by the alliance between UNHCR and the Macicuna Foundation, achieving the adaptation of sports infrastructure and training for children, girls and adolescents of the common.
On Thursday, September 15, with the presence of delegates from the Olympic Refuge Foundation (ORF), the San Martín Coliseum in Puerto Asís dressed up to officially open its facilities. In addition to being a place to learn sports such as basketball, futsal and frisbee and arts such as dance, the court has become a place of protection and integration for Venezuelan refugee and migrant (NNA) children and adolescents, as well as internally displaced persons.
A little context…
Putumayo, a department with a total population of 348,182 (according to the 2018 DANE national census), is listed as one of the territories with the greatest confluence of protection needs against violence, natural disasters and the challenges posed by the pandemic. The Venezuelan population, which amounts to 11,889 people in the department according to Colombia Migration, also faces challenges in guaranteeing their rights.
UNHCR, in partnership with the Makikuna Foundation and thanks to the support and funding of the Olympic Refuge Foundation (ORF) developed in Putumayo from 2021 the project "Come and play, sport to protect children and adolescents". The project is a commitment to the construction and maintenance of protected spaces for children and adolescents, as well as a catalyst for positive change and empowerment of refugee and migrant communities that promote peaceful coexistence and integration with the Colombian host community, which of course includes NNA victims of forced displacement.
The Come and Play project, the first supported by the Olympic Asylum Foundation in Latin America, is currently being developed in three departments of Colombia, Guajira, Norte de Santander and Putumayo.
What is the purpose of the project "Come and play, sport for the protection of children and adolescents"?
This project aims to promote social inclusion and mitigation of xenophobia, social cohesion to strengthen community and psychosocial well-being for 604 Venezuelan children and adolescents refugees and migrants, as well as internally displaced persons and host communities from the municipalities of Mocoa and Puerto Asis under three components : sport, psychosocial support and infrastructure.
It should be noted that the project has so far exceeded the initial target of beneficiaries (604) with the participation of 847 PWs of the project, of which more than 80% remain connected to the activities. Boys, girls and adolescents are 55% residents of Mocoa and 45% of Puerto Asis.
Luna Jarrit Mina Luna is a 10-year-old girl who was born in Padilla, Cauca and migrated to Puerto Asis with her family in search of better life opportunities. He is currently in the fifth grade of primary school. Since joining the Ven y Juega project, she has gained self-confidence as well as the acquisition of qualities and skills for life, emphasizing commitment, respect for collective spaces, leadership, etc. It also manages to support and integrate Venezuelan refugee and migrant children through dance.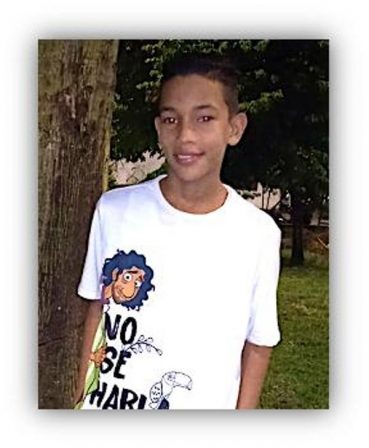 Jose Xavier is twelve years old, born in the state of Guarico, Venezuela. He currently lives with his family in Puerto Asis and is in the seventh grade of high school. He has participated with his sister in the project for a year, during which time he has enhanced his charisma, skills in sports, integration and responsibility in learning. His mother, Doña Leidismar, commented that this project was a space of peace for her and her children.
Speaking about this project, Jeroen Carrin, Program Manager, ORF, commented: "The Foundation aims to ensure that refugees and other displaced youth around the world can thrive and find a sense of belonging through sport. We are proud to support the Come and Play program in Colombia, the first in Latin America. Together with UNHCR, the Makikuna Foundation and the Colombian Olympic Committee, and in close cooperation with local authorities, we are improving access to sport for communities affected by displacement in Putumayo and elsewhere in Colombia. We are confident that this will not only lead to better mental and physical health, but also strengthen the bonds of integration and protection between displaced and host communities. By engaging in healthy competition based on the Olympic principles of friendship, respect and excellence, they grow stronger together."
What was the schedule for the opening of the San Martin Coliseum?
On Thursday, September 15, at 14:00, in the framework of the Puerto Asis Sports Festival, the official opening of the Coliseum was carried out by the Olympic Refugee Foundation (ORF), UNHCR and the Macicuna Foundation. Among the planned activities were sports finals in basketball and futsal, artistic presentations and a ceremony of awarding medals and certificates to the participants.
Time / Activity
14:00-14:15 Opening ceremony
14:15–15:15 Closing of the Sports Festival: games from the last two activities (basketball and futsal)
15:15 – 16:15 Presentation of dance and Olympic games for the integration of children, adolescents, parents and the project team
16:15 – 16:30 Rest
16:30 – 17:00 Ceremony of awarding medals and certificates to the participants.
About UNHCR
The United Nations High Commissioner for Refugees – UNHCR – is mandated by the United Nations to lead and coordinate international action to protect refugees and seek solutions for them worldwide. In Colombia, UNHCR has worked since 1997 hand in hand with the government, communities, civil society organizations and UN agencies to help strengthen asylum procedures for people in need of international protection, contribute to the prevention of displacement and protection of displaced persons and those at risk of displacement, and supports the search for sustainable solutions for all of them.
About the Olympic Refuge Foundation (ORF)
It was established in 2017 to help create safe, accessible and organized Sport for Protection projects, providing financial support to refugee and migrant communities around the world, in partnership with UNHCR in hard-to-reach places where there are more affected children. . Projects such as Come and Play were launched in 2018 in Kenya (Kakuma), Jordan and Turkey. Since the 2016 Summer Olympics in Rio, they have supported the formation of the Olympic team of refugee athletes.