Slavery in the 21st century now adds up to 50 million people
Slavery is not a relic of the past that we thought was abolished. Its modern version currently has about fifty million people, according to the latest global estimates released on Monday by the International Labor Organization of this form of slavery.
Most of them, 28 million, are victims of forced labor and the rest, 22 million, live in the trap of forced marriage. Numbers that have continued to grow over the past five years, with ten million more people in a situation of modern slavery compared to 2016 global estimates.
The specialized agency's report emphasizes that the phenomenon of modern slavery occurs in almost every country in the world and that it transcends ethnic, cultural and religious boundaries. More than half (52%) of all forced labor and a quarter of all forced marriages take place in upper-middle- or high-income countries.
Forced labor occurs primarily in the private sector
Most cases of forced labor – 86% – are in the private economy, and the remaining 14% are at the state level. 63% of those affected by this form of exploitation work in various sectors and 23% work in forced commercial sexual exploitation, an area where almost four out of five people are women or girls.
The total number of women and girls in situations of forced labor is 11.8 million, while the number of children suffering from it and not attending school is more than 3.3 million.
ILO/J. Aliing
Edward, 22, has been working as a valet in an upscale neighborhood in the Philippines for three years and is glad to have a job.
Migrants are particularly affected by forced labour
Migrant workers are more than three times more likely to be in forced labor than their non-migrant counterparts.
Although labor migration has generally positive effects on individuals, households, communities and societies, this finding shows how migrants are particularly vulnerable to forced labor and human trafficking, whether caused by illegal migration or unfair and unethical recruitment practices.
The organisation's director-general, Guy Ryder, described as "scandalous" the fact that there is no improvement in the situation of slavery, as "nothing can justify" the perpetuation of "this fundamental violation of human rights".
"We know what needs to be done and we know it can be done. Effective national policies and regulations are essential. But governments cannot do it alone. International standards provide a solid foundation and a multi-stakeholder approach is needed. Trade unions, business organisations, civil society and ordinary citizens have a crucial role to play."
For his part, the Director-General of the International Organization for Migration stressed that the report "underlines the urgency to ensure" that any form of migration "is safe, organized and regular".
Antonio Vittorino stated that "reducing the vulnerability of migrants to forced labor and human trafficking depends above all on national political and legal frameworks that respect, protect and fulfill the human rights and fundamental freedoms of all migrants – and potential migrants – at all stages of the migration process, regardless of their migration status.
"All of society must work together to reverse these shocking trends, including the implementation of the Global Compact on Migration," he added.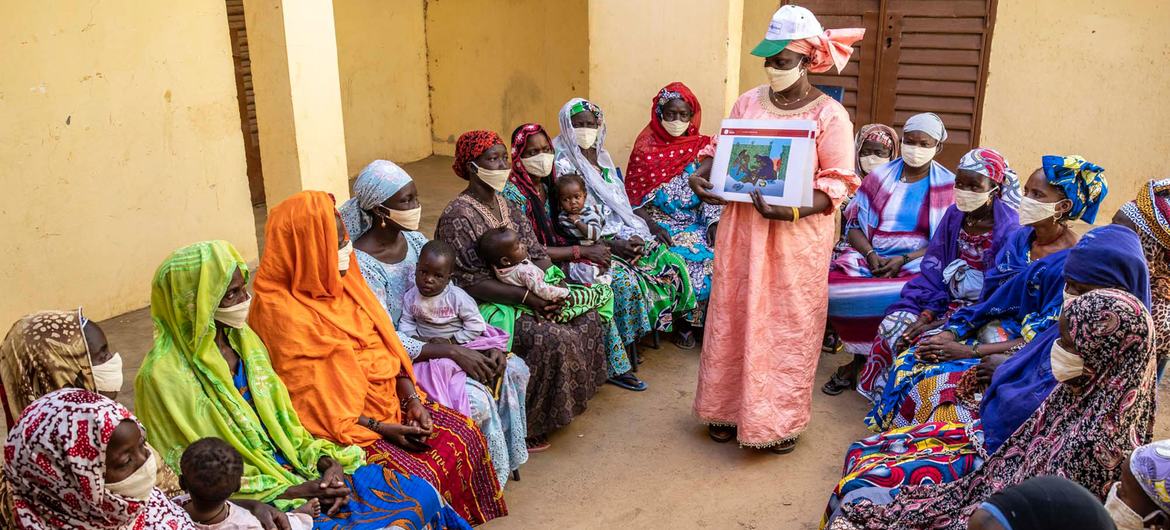 UNICEF/Harandane Diko
A woman leads a focus group in Mali where she sensitizes girls and women against all forms of violence, including child marriage and female genital mutilation, to bring about behavioral change.
More cases of forced marriage are suspected
Over the past five years, the number of forced marriages has increased by 6.6 million, reaching a total of 22 million. However, the agency clarifies that the number of cases, especially those involving children under 16, is likely much higher than current estimates because they are based on a narrow definition and do not include all child marriages.
"Forced marriages are closely related to deep-rooted patriarchal attitudes and practices and are highly context-dependent," warned the study, which also highlighted that the vast majority of forced marriages (more than 85%) were driven by family pressure.
Although two-thirds (65%) of forced marriages occur in Asia and the Pacific, accounting for regional population size, the highest prevalence of forced marriages occurs in Arab countries, at 4.8 per 1,000 people.
Report referrals
The International Labor Organization study proposes a series of measures that, if adapted quickly and collectively, would represent significant progress in ending modern slavery. For this reason, he suggests:
Improvement and enforcement of labor legislation and inspections
Ending state-imposed forced labor
Strengthen measures to combat forced labor and human trafficking in business and supply chains
Extending social protection and strengthening legal protection, including raising the legal age of marriage to 18 without exception
Note the increased risk of trafficking and forced labor for migrant workers,
Promote fair and ethical hiring
Promoting greater support for women, girls and vulnerable people