"Finishing my scene doing a late night"
With more than 30 years of experience behind him, Andreu Buenafuente He never ceases to amaze with his professional projects. As exclusively published by BLUPER, the Catalan showman was looking at HBO Max and RTVE Catalonia as options following his departure from Movistar Plus+ and the end of Late Motiv.
And so it was. This year the TV version of nobody knows anything for the aforementioned streaming platform and will premiere very soon for TVE's Catalan circuit The House of Comics, a sentimental approach to the figure of some important pioneers to understand the history of Catalan humor: Pepe Rubianes, Joan Capri, Mary Santpere, Miguel Gila and Eugenio.
From RTVE's historical archive, the program revisits each comedian's particular humor to comment on it on set with great guests who welcomed them, others who received their influence and generally all who admired and remembered them. The program is a production of El Terrat (The Mediapro Studio) for RTVE Catalonia and consists of 5 chapters.
[Andreu Buenafuente: "Ojalá pronto no hablemos de humor femenino sino de cómicas, graciosas y punto"]
You are returning to television with "La casa dels comics". What does this program consist of?
It is a way to remember comedians like Mary Santpere, Pepe Rubianes, Juan Capri, Eugenio and Miguel Gila through contemporaries, relatives and people who lived with them or enjoyed their work. The word will prevail with a relaxed atmosphere of these comedians and with the help of the archive of Spanish television.
Would you meet them?
I met practically everyone. I couldn't get to Joan Capri because he was already very ill. It was a privilege to do this program. Imagine the end of all the craziness of a daily show!
You had a great friendship with Pepe Rubianes. What's it like to do a flashback of someone you know so well?
It was very touching and I want to emphasize it now that ten years have passed since his death. He is very present in my life. I remember as a child hearing older people say "every day I remember so and so…" and thinking it was something for adults. But no, it happens to the people who marked you in a special way. Pepe Rubianes is very present in my conversations when I think of a project, I quote him very often… To see him young again, laughing was very special for me and touched me inside.
Do you have any more comedians in the pipeline for future deliveries?
There are people who ask me why it wasn't made in Spanish and I wanted to follow my instinct: I wanted it to be about the Catalan chain of Spanish TV and comedians with Catalan roots, born or raised here. There are a few names that would be very interesting.
Can a version be made with comedians of our generation?
Well I do not know. Consider that all the comedians we are talking about are people who have worked very hard to dedicate themselves to creating humor and we have reviewed their backgrounds through the RTVE archive.
What do they all have in common?
One thing they have in common, and it must be appreciated, is that they became very big professionals in the worst times in Spain and Catalonia. He believes that Gila was about to be shot. I had them as references and they made me appreciate that it was very easy for me. I don't know what I would have done in his situation. They were not only comedians but also cultural activists.
Who's bringing the humor from HBO now is you and Berto with Nobody Knows Anything. Every week you are in the 5 most viewed products…
nobody knows anything This is one of the most beautiful things that has happened to me in my life. I say this from the heart and without wanting to seem like I'm exaggerating or trying to sell something. First, because I do it with my partner and we do a program that we often think we might have to work for 30 years to be able to do. We are excited to record some programs for America to be seen in the fall. We are in disbelief and are very happy for all the good reception it is getting.
Rumor has it that "La casa dels comics" is the gateway to doing late night on TVE. Could it be possible?
No. I think the late night scene is over because I've been doing late night for over 30 years and on television I think there's a lot to explore and be able to entertain at my age, which I've already told you is not infinite. I don't see the conditions to do so.
Together with the actor and playwright Enrique Cambre, you premiered "El Incident" on TV3…
Yes, it's a series of five independent chapters each and made by independent theater companies. I wish TV3 had given it a better schedule. It's not a theater program, it's a space where we've invited five emerging companies so that the great ideas that come from small theaters can be brought to audiovisual. I sincerely believe that public television has a duty to promote theater and culture.
Especially now, when there is an audience crisis in the theater…
It's a coincidence. We have been behind this project for over five years and it is a reward for persistence. It bothers me a lot to note that the Catalan cultural fabric is sad, touched and it is not the fault of the professionals. You have to bet on a shock plan that motivates people to go to theaters. Catalonia was the cutting edge of talent, creativity… We have to take it very seriously.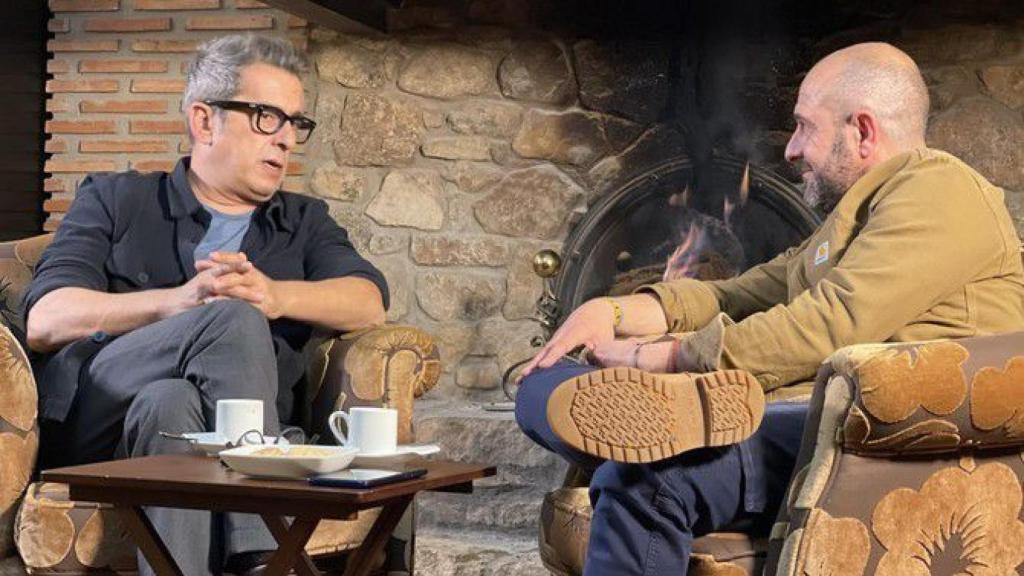 Another project we will be able to see you in is in "Quanta Guerra!", on TV3, looking for the steps your grandfather took in the Civil War. How could someone so secretive about his personal life want to participate?
This is a great program. As a society we owe a debt to those more than 10,000 dead who are in the ditches. In my case, I knew nothing about my grandfather's death, only that he died on the Aragon front. Imagine having an entire TV crew working to help you retrace your grandfather's steps, and you might even find out where he's buried. I felt privileged to participate in the program. I can tell you that my family and I are exploring the possibility of exhuming some graves where we believe my grandfather may be buried.
You once said on TV "he has a lot of money but no sense of humor". Do you still believe?
Having said that, the audiovisual landscape was different than it is now, there is quite a sense of humour. A lot of times we ask television for things that I don't think it can give us. Now I'm in charge of the podcast and the video podcast, which opens a path that we are not aware of the power that there is through the freedom of creativity and content. Linear TV is an enigma and no one knows what will happen. Being passionate about the sector, we have to be very alert to anything that might happen.
And on Buenafuente's professional agenda, what will happen in the near future?
Berto and I want to continue to explore many things that I think can be interesting. I'm especially excited to be back working in Catalonia with my team after so much time away.
Follow the topics that interest you