The 'gamification' of love: how dating 'apps' have turned finding a partner into an addictive game | Lifestyle
Andrea Gill has surpassed Tinder. He puts it this way, "I had a good time," as if it were a particularly easy video game. Gil, 36, from Madrid, swipes profiles on this dating app at a frantic, mechanical pace, her fingers moving with the dexterity of a pianist: left, right, left, right. By the time they're done. A message then pops up saying "there are no more singles in your area". Is it him game over of love, that means you've passed Tinder. The phrase is relevant not only because of its ingenuity, but also because dating apps are becoming more and more like a video game.
A Stanford University study claims that 39% of heterosexual couples and 60% of homosexual couples meet through these apps. One in five couples who got married in Spain in 2019 were dating online, according to the portal Bodas.net. This has an extremely positive effect: today it is easier to meet someone and you do not need the mediation of friends or going to a night club to do it. It's faster and accessible to everyone. But this change has side effects. One of them is gamification of acquaintances (from Eng gamegame), a way to wrap the search for a partner in game mechanics to keep the user longer on the platform.
The problem is in the mechanics of applications. To connect with a partner and be able to talk to her, Tinder asks the user to swipe the profiles of candidates from one side of the screen to the other, accepting or rejecting them, in an almost endless carousel of suitors. According to various studies, Tinder has 57 million users in 190 countries who swipe 1,500 million profiles per day. The pictures are passed from one side to the other, like stickers were passed in school. Yes / No. For this reason, many users refer to the constant search as "collecting cards". matches, of the possible connections with which, once a connection is reached, no two words are exchanged. "And I'm not disgusted by those. applications" says Gill, who has been through almost all of them over the past seven years, "but I think there have been times when I've felt addicted. It makes you so addicted that you keep searching, instead of engaging people in conversation, you keep scrolling through profiles. It's already something I do mechanically when I'm on the subway, when I'm watching TV or when I'm down".
Gill's case is not special. One in six singles admit to feeling addicted to the dating process, according to a 2017 report by Match, the parent company of dating apps Tinder, Match, OKCupid, Pairs and Hinge. This problem does not affect everyone equally. Millennials are 125% more likely to engage in this behavior than previous generations, and men are 97% more vulnerable than women. The worst part is that this effect is not accidental, it is deliberate and carefully designed.
is named swipe infinite and this is a mechanism similar to that used by social networks such as Facebook, Twitter or Instagram (in this case it is scrolling infinite because it slides down, not sideways) to keep the user engaged with an endless concatenation of posts. "This system has been shown to activate the release of dopamine, creating a degree of addiction," says California psychologist Alina Liu via email. "What happens in our brains in these applications it's quite similar to what happens with gambling or slot machines," he says.
It's a variable-reinforcement program in which the reward appears from time to time, the specialist points out: "The hope of getting that reward, in this case it matches, motivates us to keep sliding". The problem is, with dating apps, the reward isn't seeing an interesting post, or even three red cherries and a bunch of change. This is physical confirmation, a possible date and who knows if the love of your life. Pushing these emotional switches in consumers can bring in a lot of money. Tinder points out to EL PAÍS that free users can only accept 20 applicants per day, limiting the hypothetical hook this mechanism could have, and that their business model is not based on user retention, but on the user choosing a payment method. account.
In any case, it's a model that works. In the first quarter of 2022, Match Group announced revenue of $3 billion. Tinder is the top-grossing lifestyle app in the world, according to the company's own data.
"These apps put dating through a capitalist filter and turned it into an addictive game," says Liu. "The problem is their business model: they generate revenue through subscriptions and ads, so their profits are tied to users who spend their days swiping left and right on their platforms." That's why new mini-games and retention mechanisms are being sought of the user in the application. Lately, Tinder has added some fun features. An example is swipenight, an interactive series that requires the user to make moral decisions (type save the girl and risk your life or run away from danger) that may affect who you hook up with in the future. The gamification That's becoming increasingly apparent in a move the company is justifying as a way to tap into Gen Z tastes. "They're tempting you all the time," Gill explains. "I say to you, 'Come in, give him more.'
Apps can use mechanisms to try to retain the user, but it's always the one with the power. The problem isn't just the algorithm or the design of the app, it's the user's personality or environment. "For me, the emotional discomfort that exists in the person who develops the addiction is clearly more relevant," says psychologist Paloma Salamanca Iniesta. "There are constantly addictive substances or experiences around us. Tobacco, coffee, gambling, betting… but we usually do not fall into any of these until we pass through a moment of special psychological vulnerability".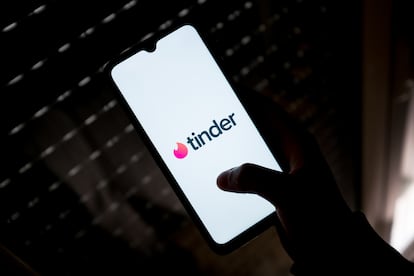 According to a report by dating app Badoo, based on data from its 370 million users, a millennial will spend an average of 90 minutes a day on applications. These indicators can be triggered if the person goes through a bad adjustment or develops a certain degree of dependence.
Apps don't always take advantage of this situation, there are some that establish digital measures of well-being. Bumble periodically releases messages to its users to minimize the negative impact of apps dating can affect the self-esteem of its users. "Ours applications there are a number of features that put mental health and self-care at the fore, such as the feature napgiving you the ability to pause your activity and come back when you're ready," he explains. Email Naomi Walkland, Bumble's VP of Europe. Thursday goes one step further. Well applications It is activated only one day a week and is based on creating events in bars, promoting meetings outside the platform.
There are some examples, but the general trend is to maximize the user's time in the app, to seek to subscribe to paid models, to increase profits. The search for love in the digital world is inseparable from the search for profit. "Tinder is an emotional techno-good, ie. a commodity that delivers emotions and uses technology," French-Israeli sociologist Eva Iluz explained in EL PAÍS a few months ago. "And it is an emotional techno-commodity that deeply disrupts current forms of socialization."
The advent of this app and all the ones that followed after it changed the way of looking for a partner. "They affect the dating landscape and modern couples in many ways," says Dr. Liu, who has long wondered what the consequences are. "Do couples become more homogenous when they meet through carefully selected filters, with matching educational, political and financial backgrounds?" he wonders, "Do dating apps make it harder to find love given the abundance of options an arm's length and the choice paralysis they cause? It will likely take us years to answer these unknowns, as they raise complex doubts about scenarios that have so far not been explored. What seems obvious is that the way of dating, of meeting people, has changed forever. The writer José Luis Alvite said that dating is the social shell of what is nothing more than an instinct. In recent years, another layer has been added, technological, playful and capitalistic, which turns the dating process into something exciting and addictive. Until it ceases to be.