Farewell to the Queen! – Now
UNITED KINGDOM.- Queen Elizabeth II of England was born on 21 April 1926 in London, the eldest daughter of the Dukes of York (later Kings George VI and Elizabeth) and was educated at home by private tutors.
His father ascended the throne in 1936 following the abdication of his brother Edward VIII.
She began her public service during World War II, serving in the Auxiliary Territorial Service, the women's branch of the British Army at the time.
In December 1936, King Edward VIII of the United Kingdom abdicated to marry the commoner divorcee Wallis Simpson of the United States, making his younger brother Albert the new monarch under the name George VI of the United Kingdom and his niece Elizabeth the Princess of succession to the throne
Since then, young but determined, she began to shape her image as a future queen. George VI's health deteriorated significantly in 1951 (he was diagnosed with lung cancer in September, suffered a blocked artery and underwent a lung resection) and Elizabeth soon replaced him at nearly every public event.
In October of that year, he toured Canada and visited United States President Harry S. Truman in Washington; on the trip his private secretary, Martin Charteris, carried the Declaration of Accession with him in case the king died during the tour.
In early 1952 Isabelle and Felipe went on tour in Australia, New Zealand and Kenya. On February 6, 1952, when they had just arrived at Sagana Lodge – their last country residence – and after spending a night at the Treetops Hotel, they received the news of Isabelle's father's death.
Felipe was responsible for conveying the fact to the new queen. Charteris asked him to choose a name for the position; she chose Elizabeth, "of course," she declared. She was declared Queen and the royal party hurried back to the UK where the marriage was transferred to Buckingham Palace.
His coronation ceremony in 1953 was the first to be televised.
With Elizabeth's ascension, it seemed likely that the royal house would bear her husband's name. Lord Mountbatten thought it would henceforth become House Mountbatten, as Elizabeth would take Philip's surname on marriage.
However, Queen Mary and British Prime Minister Winston Churchill declared themselves in favor of keeping the name of the Windsor family.
The duke, for his part, complained: "I am the only person in the country who is not allowed to give his surname to his own children."
In 1953, following the death of Queen Mary on 24 March 1953 and the resignation of Churchill in 1955, the surname Mountbatten-Windsor was adopted for the male descendants of Philip and Elizabeth who did not hold royal titles.
Amid preparations for the coronation, Princess Margaret informed her sister that she wanted to marry Peter Townsend, a divorced commoner who was 16 years her senior and had two children from a previous marriage.
The queen asked them to wait a year; in the words of Martin Charteris, "the queen naturally sympathized with the princess, but I think she thought—rather hoped—that at some point the courtship would end."
High-ranking politicians were against the union, and the Church of England did not allow marriage after divorce. If Marguerite entered into a civil marriage, she had to give up her right to inheritance, and eventually decided to abandon her plans with Townsend.
In 1960 she married Anthony Armstrong-Jones, 1st Earl of Snowdon. The couple divorced in 1978 and Margarita never remarried.
Elizabeth II at the beginning of her reign.
Despite Queen Mary's death ten weeks before the coronation, it was held at Westminster Abbey on 2 June 1953.
Before she died, Queen Mary had made it clear that in the event of her death the coronation should not be delayed. The entire ceremony, except for the anointing and communion, was televised for the first time in British history, and the coverage was instrumental in increasing media popularity; the number of TV licenses in the UK doubled to 3 million78 and over 20 million viewers watched the event in the homes of their friends or neighbours.79 In North America, just under 100 million viewers watched the broadcasts.
Elizabeth wore a dress commissioned by Norman Hartnell, embroidered, according to his instructions, with the floral emblems of the countries of the British Commonwealth: English Tudor rose, Scottish thistle, Welsh leek, Irish shamrock, Australian golden braid, Canadian maple leaf, New Zealand silver fern, southern African protea, sacred lotus for India and Ceylon and wheat, cotton and jute for Pakistan.
In 1947, she married the Greek and Danish Prince Felipe, with whom she had four children: Carlos, Ana, Andres and Eduardo.
Between 1956 and 2021, half of its kingdoms, including South Africa, Pakistan, Ceylon (later renamed Sri Lanka) and Barbados, gained independence and became republics.
During the Trooping the Color ceremony in 1981, and just six weeks before the wedding of Prince Charles and Diana Spencer, six shots were fired at the Queen at close range as she rode up The Mall on her horse "Burmese".
Police later determined that the bullets fired were rubber bullets. The 17-year-old attacker, Marcus Sargent, was sentenced to five years in prison and released after three.
The Queen's composure and riding ability were widely praised. From April to September of that year, the Queen was particularly proud116 and somewhat concerned about her son Andrew as he served in the British Armed Forces during the war. The Falklands War.
On 9 July the following year, when Elizabeth awoke in her room at Buckingham Palace, she found an intruder, Michael Fagan, standing at the foot of her bed. He remained calm when he contacted the Central Police Department and spoke with Fagan until authorities arrived seven minutes later.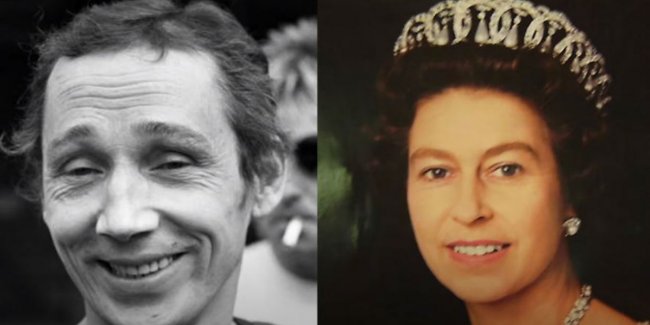 Although he hosted President Ronald Reagan at Windsor Castle in 1982 and visited his California ranch in 1983, he was upset when the US government ordered the invasion of Grenada, one of his Caribbean kingdoms, without his prior consent. Pope John Paul II in 1982 was the first visit of a Catholic Pope to the UK in 450 years.
In 1992, a year Elizabeth called the annus horribilis ("terrible year"), Charles and Andrew separated from their wives, Anne divorced, and a serious fire destroyed part of Windsor Castle.
Rumors about the marital status of Charles and Diana, Princess of Wales continued, and they divorced in 1996. The following year, Diana died in a car accident in Paris, and the media criticized the royal family for going into seclusion for so long, days before his funeral .
As of 2007, she is the longest-reigning monarch in British history, overtaking her great-great-grandmother Queen Victoria. She is one of the longest-reigning monarchs in history, and as of September 2015 is the British monarch. longest reign since once again surpassing Queen Victoria.
In 2002, Elizabeth celebrated her Golden Jubilee as Queen. His sister and mother died in February and March respectively, and the media speculated whether the anniversary would be a success or a failure.
He again made an extensive tour of his kingdoms, starting in Jamaica in February, where he described the farewell banquet as "memorable" after a blackout at Casa del Rey, the official residence of the governor-general, plunged them into darkness.
As in 1977, there were street parties, commemorative events and the unveiling of monuments to commemorate the event. One million people attended the main celebrations over three days in London,149 and public enthusiasm for Elizabeth was far greater than journalists had predicted.
Although Isabel enjoyed good health throughout her life, in 2003 she had to undergo arthroscopy on her knees, and in June 2005 she canceled some engagements after catching a cold. In October 2006, he missed the opener at the Emirates Stadium due to pain from a strained back.
Two months later, she was seen with a bandage on her right hand due to being bitten by her dogs while trying to separate them while they were fighting.
In 2011, he had to cancel a religious service of the Royal Victorian Order at Windsor Castle due to a nosebleed and, accordingly, admission due to a back injury.
In March 2013, she had to be admitted to Eduardo VII Hospital due to a stomach infection with symptoms of gastroenteritis.155
Its silver, gold, diamond, sapphire and platinum jubilees were celebrated in 1977, 2002, 2012, 2017 and 2022 respectively.10
On 9 April 2021, her husband, Prince Philip, Duke of Edinburgh, died two months short of his 100th birthday and 12 days short of her 95th birthday. Elizabeth II's marriage is the longest in the history of the royal family, the couple was together for more than 74 years.
Commonwealth realms celebrated between 2 and 6 June 2022 the so-called Jubilee Days, the Platinum Jubilee, an act that marked the 70th anniversary of Elizabeth II's reign, ending on 6 February 2022.
platinum anniversary
The Queen's Platinum Jubilee began on 6 February 2022. It marks 70 years since she ascended the throne following the death of her father. She held a reception for pensioners, members of the local women's institute and volunteers from charities in the run-up to the date at Sandringham House.
In her Accession Day message, Elizabeth renewed the lifelong commitment to public service that she had originally made in 1947. 237
On 14 March, the Queen was unable to attend the annual Commonwealth Day service; which was a special focus in its platinum anniversary year.
However, this was reported to be due to mobility issues rather than health issues and the Prince of Wales represented her at the service.
He has no intention of abdicating, although the proportion of public duties carried out by Prince Charles has increased as Elizabeth has reduced her engagements.
Elizabeth II is the longest-reigning monarch in British history. Only five other kings and queens have ruled the United Kingdom for more than 50 years: Victoria (63 years), George III (59 years), Henry III (56 years), Edward III (50 years) and James VI of Scotland (James I of England) (58 years).
AM.MX/fm
Comments
comments