Education, the path of two young refugees to move from fear to hope
Like all bad things, the situation in the city of San Salvador, El Salvador, gradually worsened. In 2019, gang violence has reached such a level that setting up a business, going out on the streets or using public transport has become a risk.
So says 25-year-old Natalie Raquel Machado Velasco, whose life, like water heated to boiling, gradually changed because of the violence. First, he dropped out of school; then she quit her job and finally decided to stop going out on the streets: her routine became a constant fear of being kidnapped by gangs.
That day in May, she and her husband, Enrique Lopez, 29, made a decision: They had to leave the country, and they had to do it now.
"My husband had problems with these groups (gangs) and so did my family, so we came to the conclusion that if we stayed there, in my country, we would never achieve anything: even he wouldn't be able to start a business or something , because they would bother him, nor could I go out to study or walk freely on the street because either you get robbed or you get kidnapped… I couldn't," he says in an interview with UN News in Spanish.
"You can't ride the bus alone there because they come up to you and tell you things. What we wanted to avoid was that they would ask me something, and I refused, because if you refuse, something might happen to you, you might be caught by force," he recalled.
So Nathalie and Enrique packed a few belongings, boarded a bus that took them to Guatemala, and then crossed the southern Mexican border on foot, through Palenque, where relatives were already waiting for them. They finally felt safe but the long road of integration into a new country and another culture had only just begun.
Courtesy of Andres Rafael Escala Acosta
Andres Escala Acosta (left) poses with his family in Mexico City, Mexico.
His wish is to become an engineer
Originally from Margarita Island, in the eastern part of Venezuela, Andres Rafael Escala Acosta, 21 years old, misses the spaciousness of the so-called "Pearl of the Caribbean", the warmth of his countrymen and the turquoise blue color of the sea that colored his days and followed him wherever he went and turn around. However, his greatest desire is to study to be an engineer, which forces him to emigrate from his country.
"I arrived in Mexico the last week of 2018 as a humanitarian refugee fleeing my country. I left because of the general situation: crime was at levels where you couldn't even leave your house. I came to read news about people who went out at eight in the evening and in order to rob them, they shot them. The situation was very dangerous, apart from the problems with basic services: suddenly we spent a week without electricity, almost two months without water, a whole month without internet… Getting gas was very complicated and the whole situation in general in the country… It was very difficult to continue to I live there," he says.
"My mom told me it's time to move for your own good because you won't be able to finish your degree in Venezuela, you'll probably stay 8 or 9 years trying to graduate and you won't. My mom told me the same . family"
Today Andres has replaced the sea and the beach with another ecosystem: a jungle of asphalt and buildings called Mexico City, the country's capital, allowing him to continue his studies. He emigrated with his mother, aunt and cousin as the most viable option to complete his studies; His father remained in Venezuela.
Although he appreciates the food, grand monuments and architecture, Andres Rafael describes his Mexican experience as "overwhelming", especially because of the difference in size between his home island and the land that welcomed him.
Just for example, while Margarita has a population of 600,000, Mexico City has 9.2 million people, but with a mobile population that comes to work and then leaves, that figure exceeds 20 million. That is, Mexico City is 15 times bigger than Margarita.
"The size of Mexico City is huge. I was used to living on an island where everything is half an hour away, living in a city where the average time (of transfer) is an hour and a half to anywhere, too many people. It was very difficult for me to adapt", confides the young man, who longs to complete his higher education and graduate as an engineer.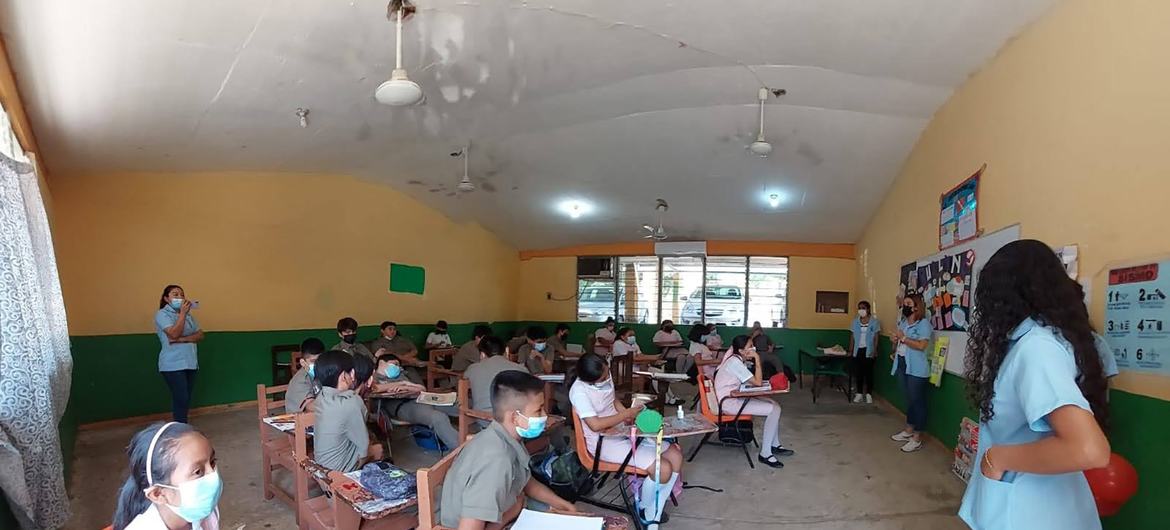 Courtesy of Nathaly Raquel Velasco
Natalie (right) during an anti-bullying workshop at a secondary school in Palenque, Chiapas.
A hand for refugees
Today, thanks to the German Albert Einstein Academic Initiative (DAFI) of the United Nations Refugee Agency (UNHCR), both young people remained in Mexico and were able to return to school: Andrés Rafael studies Telematics Engineering in one of the best study centers of Country: National Polytechnic Institute; while Nathaly Raquel is studying a BA in Social Work at the Universidad Salazar Palenque campus.
The two were approached by family members already living in Mexico and told about it. The program offers refugees and qualified students the opportunity to obtain an academic degree in their country of origin or host country. In addition to financial support, UNHCR provided them with psychological support to face the change in life.
Globally, the Initiative has supported the enrollment and completion of higher education for more than 18,500 refugee youth since 1992; It is meant to cover various expenses such as tuition, fees, study materials, food, transport and accommodation, among others.
In addition, those who receive scholarships from the program receive a close companion, preparatory and language courses, as well as networking and mentoring opportunities.
In Latin America, the program operates in Mexico and Ecuador; in the first of the countries started in 2019 and currently supports 52 scholarship holders. Globally, in 2022 the initiative celebrates its 30th anniversary.
Mariana Echandi Ruiz, UNHCR's Durable Solutions Officer, explained that the goal of the program in Mexico is to work with higher education institutions so that opportunities are expanded so that young refugees can integrate into the country through their studies, to become professionals and give back to the society that received them through their own education.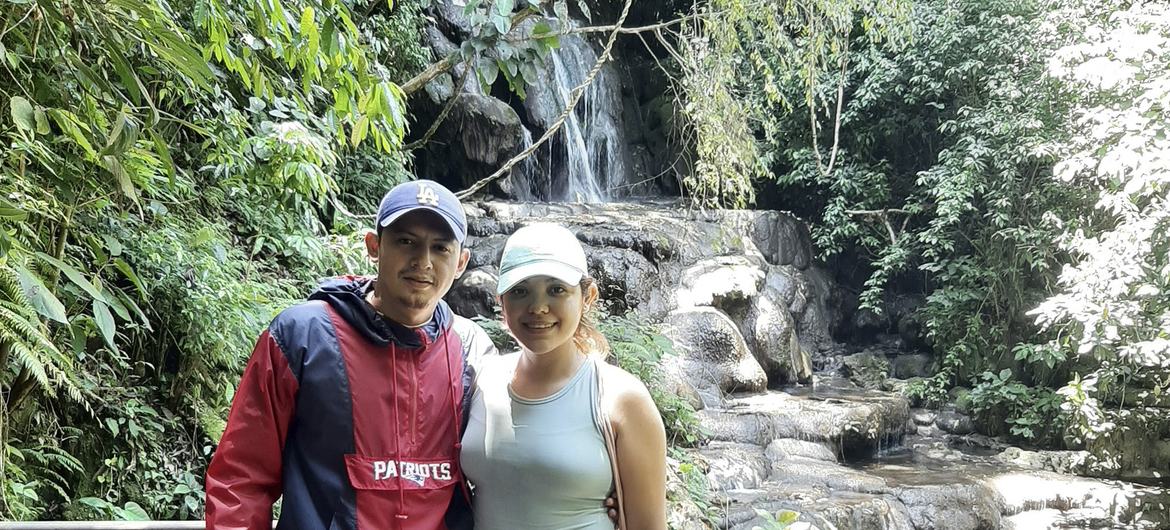 Courtesy of Nathaly Raquel Velasco
Natalie (right) and her husband Enrique pose in Palenque, Chiapas, Mexico.
Not only the home was abandoned, but also the life project
"When a person leaves his country, he not only leaves his home, his families, but even that life project he had. Education, school, are spaces of protection for children, for adolescents, for young people", he explains.
"The opportunity offered to young people through a program like DAFI allows to reduce the obstacles, the difficulties that a young person in the country of asylum would have to integrate in higher education (…) The DAFI program, what it is to reach out to the refugees, to the young refugees, so that they do not abandon their dream of continuing their education".
According to data from UNHCR itself, updated as of May 2022. more and more people find international protection in Mexico. In 2021, more than 131,000 people sought asylum in the country, a record number, up 220 percent from 2020.
Start over
Despite missing their places of origin and families, the difficulties of adapting to a new environment, finding friends, starting a career and the long process of obtaining legal residency in Mexico, Andres and Natalie were able to resume their lives.
For Andres, the decision to leave Venezuela and immigrate to Mexico was difficult, although in the end he had nothing to lose, he admits. Arriving here, he received the hospitality of a Mexican family, who welcomed him and helped him in the first months of his stay in the country.
Natalie Raquel went through a long period of uncertainty as she did not know if she would be able to obtain legal residency in the country. If you add missing your home and family, the first year was the hardest of your entire process.
"The first year was very difficult because even though every country has its things, it's not perfect, there's always something, but you want to be there because you grew up there and your family, your friends, everything is there. You move to your country because you know it and everything. To come here and not have documents… We spent 9 months in uncertainty," he says.
Three years after their arrival in Mexico, both are settled with their families, have new friends and most of all the hope for a better future.
"I was going through a bad period when the pandemic started because I couldn't work, I didn't have money, I didn't know how I was going to pay for the next semester… When I joined the DAFI program, with this support I felt like a respite and thanks to it I was able to continue support myself, I shouldn't have been in a situation where I had to abandon my career," says Andres Rafael. "I wouldn't have had that personal growth if I had stayed in Venezuela."