the friendship that survived the toughest battles
Carlos Ortiz and Sergio Lozano They emerge from the changing rooms with an open, relaxed smile. Madrid get ABC at the Palau Blaugrana with the homework done, which was very important in Barcelona's last year, with four titles out of a possible five, and with the renewal of the first officially announced. And as if all this is not enough, with tight suitcases, they share their holidays again, this time in the exotic places of Vietnam. They convey happiness.
"When you play at a club like this, you know you have a lot of opportunities to win titles, although the reality always tells you that it is much more difficult than you expect. But everything went well, we won four out of five, we were only eliminated in the Copa del Rey and the truth is that we are very happy, it was a very good year for everyone," explains Ortiz, who signed last summer. Despite his inexperience, as a Barça player and not on the track where he is a veteran, his opinion fully coincides with that of the team's heavyweight, the captain, "Buffalo" Lozano, recently voted the best player in the league. "We knew we had one of the best teams in the world. It doesn't guarantee you anything, but when you have such a good base, you know that if you work and have a bit of luck at certain times, which we've had this year in various finals, winning on penalties or suffering, it makes for a spectacular season. »
In the words of both, a great complicity is evident, a bond that comes far beyond what they shared last year, as both boast a long friendship away from the floor, so solid that even their intense matches for the league or the champions when they wore jerseys of the opponent, made a breakthrough. "Well, there was a play…" Sergio points out, making Carlos laugh. "It wasn't controversial in terms of friendship, but it made for some fun on the road. A double penalty I was going to shoot in a league final that got in the way and almost hit me when I went to shoot… There was "hey, that's dirty' and the like, but it wasn't like we were risking our friendship. After all, these are things that happen on the track, but we have been noble uncles, not only with each other, but with all the rivals. We have tried to fight each other with all our strength and sometimes there may be a small argument, but it is far from affecting the friendship. Certainly not."
friends face to face
"We have been noble uncles not only to each other, but to all rivals"
Despite the fact that one player, Lozano, is more offensive and another, Ortiz, is more defensive, the latter explained that "on the court we didn't cross paths as much as we would have expected." "But hey, we're both professionals, we're very competitive, and everybody's got their own interests at the moment. I defended Movistar Inter, he defended Barça, we both wanted to win and we gave our all for our clubs to win. After the game was over, everything went back to normal and we went back to being the friends we'd always been. But in the forty minutes it was clear that everyone would defend their interests.
"Each one of us has defended what we have until the very end, but I think fortunately our sport and especially us are quite close-knit people and we're the kind of people who think that once you get on the track, everybody's going to defend what's theirs to the death and once you're done, it's a sport," adds Lozano.
Friends in different dressing rooms

Until the day Movistar Inter decided to end Ortiz's successful streak in his shirt, he had faced Lozano countless times and in many of them with titles on the line. "We have played so many games against each other, even in finals that used to be five games and we played three or four in a row, imagine, plus the league, plus the Copa del Rey… there are many games," Lozano recalled. Because despite the coincidence of their beginnings at the same club, fate always put them face to face in the club competition.
"We met at Las Rozas Boadilla. I'm older than Sergio and we were in different categories, but when he was a youth or something, he started training with us and there we started to be treated like a subsidiary player going to the first team, no more fuss Ortiz explains. "But then we started playing in different teams, we faced each other, we got along well, we were from Madrid, we came from the same school, we both had Luis Fonseca as a mentor and that also helped a lot," while Sergio most finally debuted in the selection and that's where we started doing a little more crumbs and I think the key was the trip to the European Championships in Croatia (2012), which our women went to see, because they were both from the same neighborhood and they matched each other very well. As a result, we started to get a lot closer and started traveling together and making a lot more plans, the four of us».
When asked about the possibility of having shared a shirt before, they both explain it very naturally. "I can tell you about my situation," Lozano begins. "I was always aware that I would stay at Barca. It's true that there was one of those years where Inter pushed a lot for him to sign, but nothing concrete, far from it. It was clear to me that the team that bet on me was Barca and that I would continue as long as the club wanted, just as I think now. And I think Carlos had the chance to come to Barca two or three times, but I guess he will be able to tell you better that due to different circumstances it was not possible. In the end arrived when it arrivedand he's really enjoying what this club stands for and on top of that we've had a spectacular year so it's all the more delicious."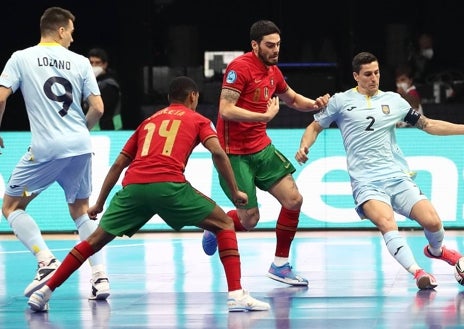 But how did the former Movistar Inter captain dress up as a Barça player after a fleeting adventure in Paris? It was a club move, but with some intervention from Lozano. "I had first contact with Andreu, the previous coach. Sergio called me earlier to ask me. He said to me, "Hey Carlos, how's the situation over there? I think there is a possibility for you to come. How will you see it? Obviously I told him that I would be happy, I spoke to Andreu, he offered me a bit of the idea that he had… What happens is that because the club had other plans regarding the coach, that he was going to change , everything cooled down and I started to negotiate with Halle-Gooik from Belgium", explains Ortiz. "I practically shut it down, but then the opportunity came up for Jesus Velasco to become the coach of Barca and he was the one who called me and said 'hey, before you sign anything, please wait, I'm going to be the coach and we need to talk, because I better want you to come. After his signing was made official, talks with Jordi Torres, Jesus and the club, the agreement was reached. "I felt a lot that Sergio was here because he was very insistent that he come, he was the first one who also said it was a good idea for me to be here and then throughout the whole process I am aware that he helped as well. "
At this point, Lozano intervenes, downplaying his involvement: "I have one thing clear and that is that if Carlos is here at Barca at the age he arrived (37), it is because he deserved it. I have nothing to do with it. My first call was a little informative because Andreu asked me "you who are such a friend, ask him if he would like to come", it was a first contact and then if I had been asked I would have given my opinion. I think he was an instant player who could help us in the closing phase where we weren't very good and he was confident he could give us a lot in the minutes he played. In fact, it has been proven. He himself has earned continuity and it is clear that it was a success that he came".
The signing from Barca
"Sergio was the first one to say it was a good idea for me to come and then throughout the whole process I'm aware that he also helped"
But beyond the result in the form of titles, how does it feel to finally experience a full season in the same shirt? "We wanted to play together, we talked about it for many years, we did it in the national team but not at club level and it's true that it was a special year for us, very nice and we had a lot of fun, both outside and inside , and it's true that winning titles together is exciting," Ortiz admits. "Perhaps more than the titles we enjoy every day because, as Carlos said, many colleagues end up becoming friends, but we have a special bond from many years ago. But it happened super fast between races, selections…" adds Lozano.
Most of the moments that didn't touch training or travel were shared. "Having Sergio in town was key, both in and out of the dressing room. In the end, arriving in a place you don't know when you have a person next to you who gives you a cable in everything, because the truth is that it is appreciated and it is much easier, "admits Ortiz.
"We live very close, barely a kilometer from each other. The question is "what are we not doing together" here in Barcelona because Not only do we get along, but our wives get along very well. And they make a lot of plans. Also, they act like uncles to my daughter, so imagine that. Obviously we do things on our own, but at the end of the day, the four of us have been like a family for a long time, so we're enjoying this moment, which we don't know how long it will last," Lozano adds.
Shared holidays, tradition

Accustomed to sharing part of their vacations, even when they come from the track, this year's summer vacation in Vietnam has an important difference, because for the first time, happiness is complete for both of them. Well, as Ortiz admits, "other times we'd go away and one would celebrate and one wouldn't," although, as Lozano adds, that never stopped futsal from being talked about on his travels. "We spoke because we are passionate about this sport and you always speak. And once the competition is over and the duel is over for the loser, everything goes back to normal and that's it. But we've always worn it normally.
All against Barca

On their return from the trip and with Ortiz's renewal confirmed, they will once again share a dressing room and be rivals for victory, both in Spain and Europe. "Every year that Barca play, it's like that, regardless of the opponent," explains the Barca captain. "The Shield demands this from you and we know that everyone wants to beat us, the pressure is not going to change. Everyone who comes here knows it. They require us to reach the finals, try to win titles and if possible by playing well. It's something that's about the club and it's going to happen every year whether you win or not. We are aware that after the win we are maybe a little more fired up, but also that we have a certain advantage over last year as we know the coach and that the team will be almost the same."
"This team has always had a great shot. Virtually all players are goal players who can decide the game for you and this season training and playing with them confirmed that for me," Ortiz admits. "Our advantage for next year is that we will finally be able to train because it has been a crazy year, with the European Championship, the World Cup, practically every week a game in the week… and we have been able to train very little together. All that came out was the little we trained with Jesus and the individual qualities and I'm sure we'll see a better Barca next year," he warns. We will see when the new season starts, but first it was time to celebrate the titles and the renewal in Vietnam with his friend Sergio.